| | | |
| --- | --- | --- |
| Name of product | Procurement Lead Time | Catalog Number |
| TRUPACT-III Standard Large Box 2 | 14 weeks | |
Reference Documents
a) WP 08-PT.05, TRUPACT-III Standard Large Box 2 Handling and Operation Manual, Rev 1

b) E-I-463, Specification for Fabrication of the Standard Large Box 2, Rev 9

c) WP 13-QA.30,Quality Assurance Inspection Plan for the Standard Large Box 2, Top Loading, Rev. 0

d) 165-F-016, Top Loading Standard Large Box 2 Assembly, Rev C

e) 165-F-017, Bottom Loading Standard Large Box 2 Assembly, Rev New
1.0 General Description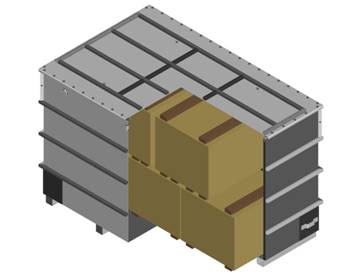 TRUPACT-III Standard Large Box 2
Table 1 – SLB2 Weights
Component

Weight in pounds

Approximate Empty

Maximum Gross

Maximum net

SLB2

10,500

2,580

8,075
Table 2 – SLB2 Dimensions
Dimension

Approximate Measurement (Inches)

Inside

Outside

Height

64 ½

73 3/8

Length

102

108

Width

63

69
2.0 Container Performance Criteria
The SLB2 was qualified by the Washington Group Engineered Products Division (EPD) in 2004 as meeting the U.S. Department of Transportation (USDOT) requirements for Specification 7A Type A packaging.
U.S. DOT 7A Compliance Documents
49 CFR §173.465, Type A Packaging Tests
3.0 Quality Assurance
The Seller's C of C shall be signed by an officer of the Sellers' Organization, certifying the conformance of the supplied items to the requirements of this specification (including contract drawings). The Certificate of Compliance/Conformance (C of C) shall be traceable to the serial number(s) of the component(s).
4.0 Suggested Manufacturers –specified in the BOA